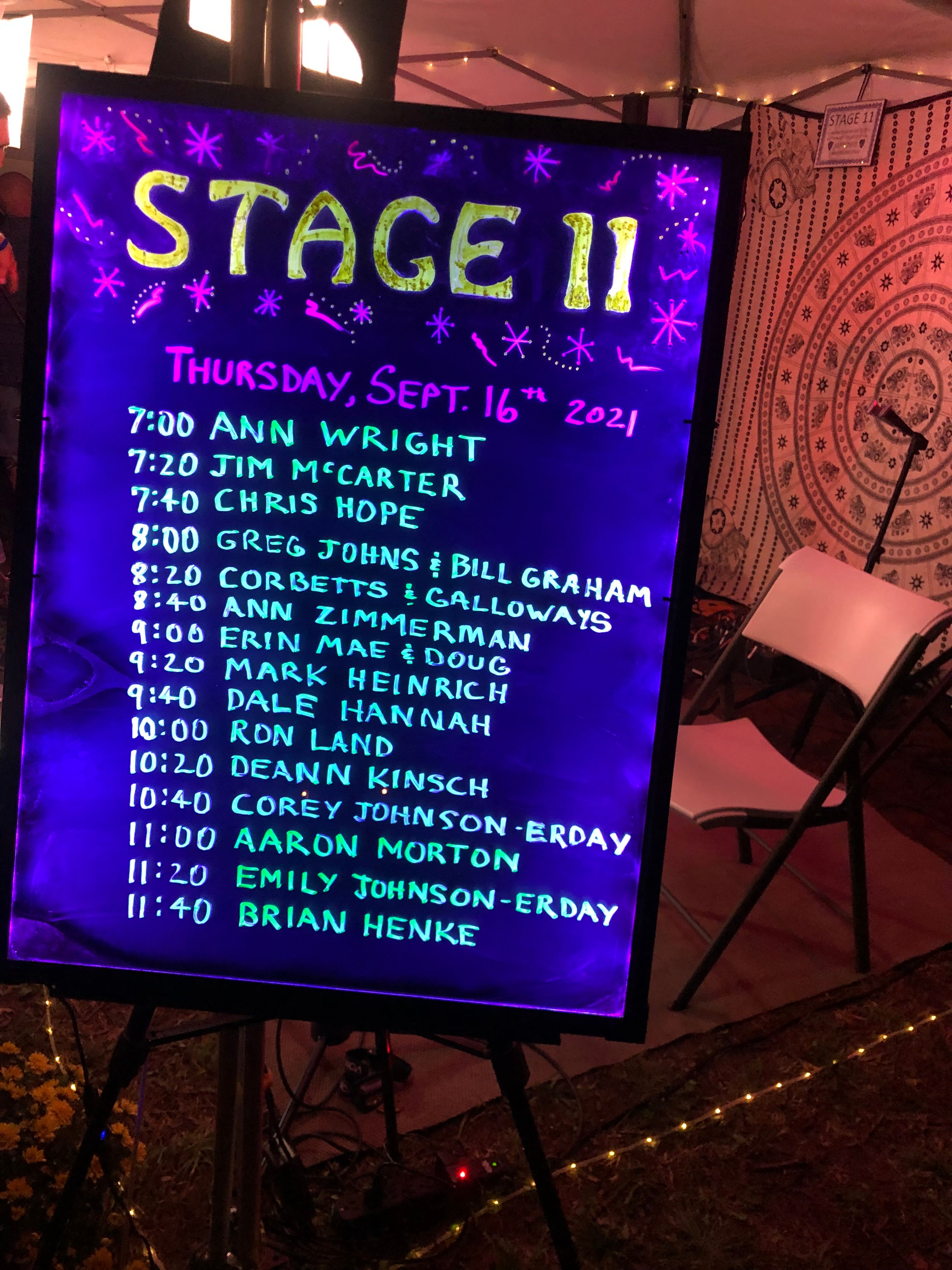 I played a twenty minute set at The Stage 11 at the Walnut Valley Bluegrass Festival. Stage 11 is a small tent (stage) in the Elm Grove camping section. I signed up for a twenty minute slot to play some of my songs. I played my songs to the best of my ability. I played five songs and the crowd clapped after each one. (That is a good thing.) lol 
    After playing I was headed back to my camp and I felt defeated. I felt like I had just lost a fight. I didn't even know I was in a fight. I asked myself, " Where is this feeling coming from? "  I decided it was how I was feeling after my performance. I wanted to know "Why am I feeling this way?" It took me awhile to come up with the answer.
    The songs that I played were personal songs. What do I mean when I say personal songs? I can give you two examples of songs that I played. The first song I played was called Polaroid Memories. It is a song about my Grandma. Every holiday and family event, she was there with her Kodak camera taking pictures and telling us to smile for the camera, and everybody say cheese. 
     The bridge of Polaroid Memories takes a different turn. Here is the bridge-
Grandma's gone but the clock never stops, except in the photos that Grandma shot.
To me that is a powerful description of a photograph. When I look back at photos and see a young Jim. I will never be as young as that picture because the clock is still ticking. The next photo I have taken I am going to be older. ( and grayer)
      Another song that I played in my set was Best Friend. It is a song about my Mom and her best friend. I am proud to be able to say that my Mom's best friend was Jesus. After my Dad died she lived alone in her apartment. That is a terrible feeling to be alone and lonely. She was not alone. She talked to Jesus. She told him alll her concerns, her problems, and all of her children and grandkids problems also. What a great thing to know that you have someone who is praying for you. 
      These two songs are part of my life that I am sharing with strangers. I am exposing myself, here I am, here is my life and that is a tough thing to do. I was making myself vulnerable. Some people say that being vulnerable is a sign of courage. I don't know if that's true but being vulnerable gives meaning to your songs. (Unlike most pop songs) 
       I am going to keep writing songs and being vulnerable. I may not like the feeling but I hope that others can relate to my songs. Be vulnerable.